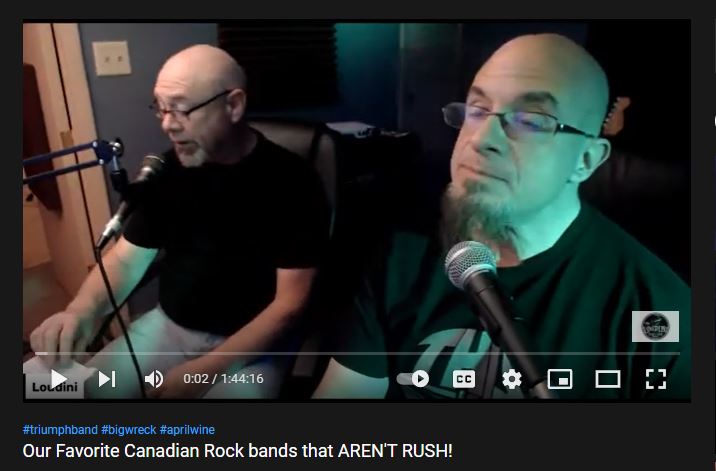 #triumphband #bigwreck #aprilwine
Get a FREE EP HERE: http://LouLombardiMusic.com if  you love great guitar driven rock from the 70s, 80s, 90s and even  today, you will want to get my EP "The Bad Years". Get your copy while  supplies last!
Most of you know what a HUGE  fans we are here at the Loudini Rock & Roll Circus of the Canadian power trio, RUSH. However, Canada has produced A LOT of other great bands as well.
Check out the podcast here https://app.talkshoe.com/episode/19510706
On this week's Loudini Rock & Roll Circus podcast we will tell you about 10 AMAZING rock bands from the great white north that AREN'T RUSH! 
Topics Discussed:
Triumph
Anvil
April Wine
Big Wreck
Finger Eleven
Max Webster
Mahogany Rush
Coney Hatch
Loverboy
Kobra & the Lotus
The Sheepdogs
Strapping Young Lad & Devon Townsend Band & Project
*Cross Canadian Ragweed is not Canadian!😞
Honorable mention: Johnny Favourite Swing Orchestra, Three Days Grace, Sum 41, The Trews, The Guess Who, BTO,  Saga, Honeymoon Suite, Anvil, Steppenwolf, Helix, Thor, Our Lady Peace, Nickleback, Kittie, Danko Jones, Theory of a Deadman, Monster Truck, Unleash the Archers, Diemonds, Sumo Cyco, Cryptopsy, Spirit Box, Chilliwack, The Headpins
reference: 
https://www.loudersound.com/features/10-of-the-best-rock-bands-from-canada
https://www.ultimate-guitar.com/articles/features/35_best_rock_bands_from_canada-62371
New and notable:
Kevin:  The Cold Stares
Lou:  The Big Deal  https://www.facebook.com/TheBandBigDeal/about/?ref=page_internal
Lyrics With Loudini:  
Sign of the Gypsy Queen
This Day In Music
https://www.thisdayinmusic.com