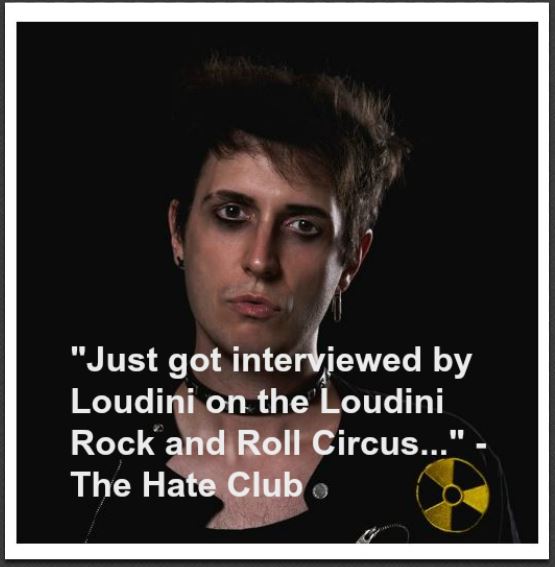 Do your part to keep guitar driven rock ALIVE... join Loudini LIVE! Go to www.LouLombardiMusic.com/InnerCircle to find out how you can be a part of our LIVE online audience and get access to exclusive music and video!
"The Hate Club is a place for outcasts to call home, for people to punch in the face the messed up world we live in." This is how The Hate Club's (THC) leader and sole member, Alex Poe, describes the mission for his music and his 'band' overall. Poe has set out to achieve this goal through an amalgamation of the driving bass heavy practices of EDM and the spite and swagger of punk rock, clearly heard through his vocal quality and lyricism.
Growing up in an oppressive Ukrainian household, Poe eventually fled to Los Angeles where he became enamored with the electronic music scene. In 2017 THC released its debut EP, Space Born, made major waves in the underground electronic music scene, becoming a cult favorite in the US primary musical hot spots, New York and LA. Now, with the release of their second EP, Misfits, THC furthers the dark yet charming narrative created by Space Born.
Check out Misfits Here
The music in Misfits explodes with a type of impulsive emotionality created by a thick, and often chaotic, bed of sound, perfectly supporting Poe's entrancing vocals. Poe explains "This EP glorifies inappropriate behavior; it looks at your past with disgust and focuses on your ego." Of the 5 songs on the Misfits EP some standout tracks include "Under My Feet," "One Mile Away," and "Little By Little." Opening the EP and setting the tone powerfully with the industrial pop sound in "Under My Feet."
While favorably compared to some Punk and EDM greats like Skrillix, Cage the Elephant, Missio, or The White Stripes, THC is truly in a class all its own. Keeping in the spirit of Punk rock, Poe is a dedicated DIY artist who not only writes all of his music but also tracks all parts, as well as mixing and mastering his songs by himself to prepare for performance with the help of his Ableton Push. This approach has allowed him to achieve the level of excitement, and overall sound, in performance comparable to a full-band. Poe states, "I want to reinvent the way artists perform now. I think there's so much room to explore in the electronic world, in terms of performance."
Links:
https://www.facebook.com/thehateclub
https://www.instagram.com/iamhateclub/
https://thehateclub.xyz/the-hate-club-epk/